London, a city teeming with history, culture, and unmatched architectural beauty, is an ideal location for photoshoots. The ancient city's unique mix of contemporary and heritage buildings, from the shiny skyscrapers to the regal Victorian houses, provides diverse backdrops.
This rich tapestry is borne out of the city's vibrant past, shaping its iconic skyline and landmarks over the centuries. Whether you're a professional photographer building your portfolio or an amateur looking to flex your creative muscles, you'll find London's location houses a creative haven.
---
Suburban Houses, Quaint Cottages, and Stately Mansions
Each residential setting in London possesses its distinct charm. London's suburban houses are ideal if you're aiming for a more domestic and intimate atmosphere. These locations offer a range of aesthetics, from exposed brick walls to attractive decks and well-maintained gardens, allowing photographers to experiment with different themes.
Next are the stately mansions, where the grandeur and opulence offer a regal touch to your shoots. The rich panelling, tall windows, and intricate architectural details create an intriguing backdrop.
Finally, quaint cottages nestled in the city's outskirts provide a tranquil setting for your shoots. Their rustic aesthetics, with flower-filled gardens and warm, cosy interiors, offer a welcome contrast to London's bustling city life.
---
Capture the Spirit of London Through its Diverse Neighbourhoods
London's diverse neighbourhoods, each with its unique features, are perfect for location house photography. Barnett, with its mix of Victorian and modern homes, offers a range of residential photoshoot locations. Haringey showcases a blend of architectural styles, from suburban houses to red-brick apartments, making it a versatile choice. Here are just a few of our favourite locations for London housing photoshoots.
Harrow: Serene Suburbia Meets Historical Elegance
Harrow, a suburban area in northwest London, is a fantastic neighbourhood for photoshoots. Known for its leafy streets, spacious Edwardian homes, and historical buildings, Harrow offers a serene and beautiful setting for various photoshoot styles.
The Edwardian houses, characterized by their large bay windows, detailed entrances, and sizeable gardens, offer a sense of grandeur and timelessness. These homes are perfect for shoots requiring a classic, vintage backdrop or family home photography. The interiors exude charm and elegance with their traditional decor, high ceilings, and period features.
Meanwhile, Harrow's historical buildings, like Harrow School, one of the oldest schools in the UK, contrast their impressive architecture. They offer a unique backdrop for shoots, with their red-brick walls, sprawling lawns, and striking architectural details.
Aside from the houses and historical buildings, Harrow's peaceful parks and open spaces are worth considering for outdoor photoshoots. These green spaces provide a beautiful, natural setting that is especially striking during spring and autumn when the foliage is in full bloom or turning a golden hue.
The neighbourhood is particularly enchanting during the early morning or late afternoon when the light casts long shadows and gives the area a soft, warm glow.
Islington: A Blend of Historic Charm and Modern Chic
Islington stands out as one of London's most appealing neighbourhoods for photoshoots. Famous for its fine Georgian townhouses and cobbled streets, the area is a charming fusion of the old and the new. With a mix of historic structures and stylish modern conversions, it provides a variety of backdrops, making it suitable for different styles of shoots.
The townhouses, with their detailed ironwork, handsome brick facades, and grand entrances, make for an elegant and stately setting. If you're aiming for an editorial look, these homes can provide a classic London aesthetic with their intricate interior design, high ceilings, and beautiful period features.
On the other hand, Islington's modern apartment buildings and converted industrial spaces offer a completely different but equally appealing aesthetic. These contemporary interiors are known for their spacious rooms, minimalist design, and exposed brick walls. They make for an edgy, stylish backdrop, ideal for fashion shoots or creative projects that require a more modern vibe.
Islington's picturesque streets and squares, adorned with flowering trees and lined with quaint shops and cafes, are also fantastic locations for outdoor shoots. The neighbourhood is particularly beautiful during the early morning hours when it's quiet, and the light is soft.
West Sussex: A Mélange of Architecture Amidst Natural Splendour
West Sussex is a county that offers a variety of stunning London-location houses for photoshoots. From modern design homes to heritage properties, West Sussex presents a tapestry of architectural styles, all set against the backdrop of the county's lush countryside and picturesque coastline.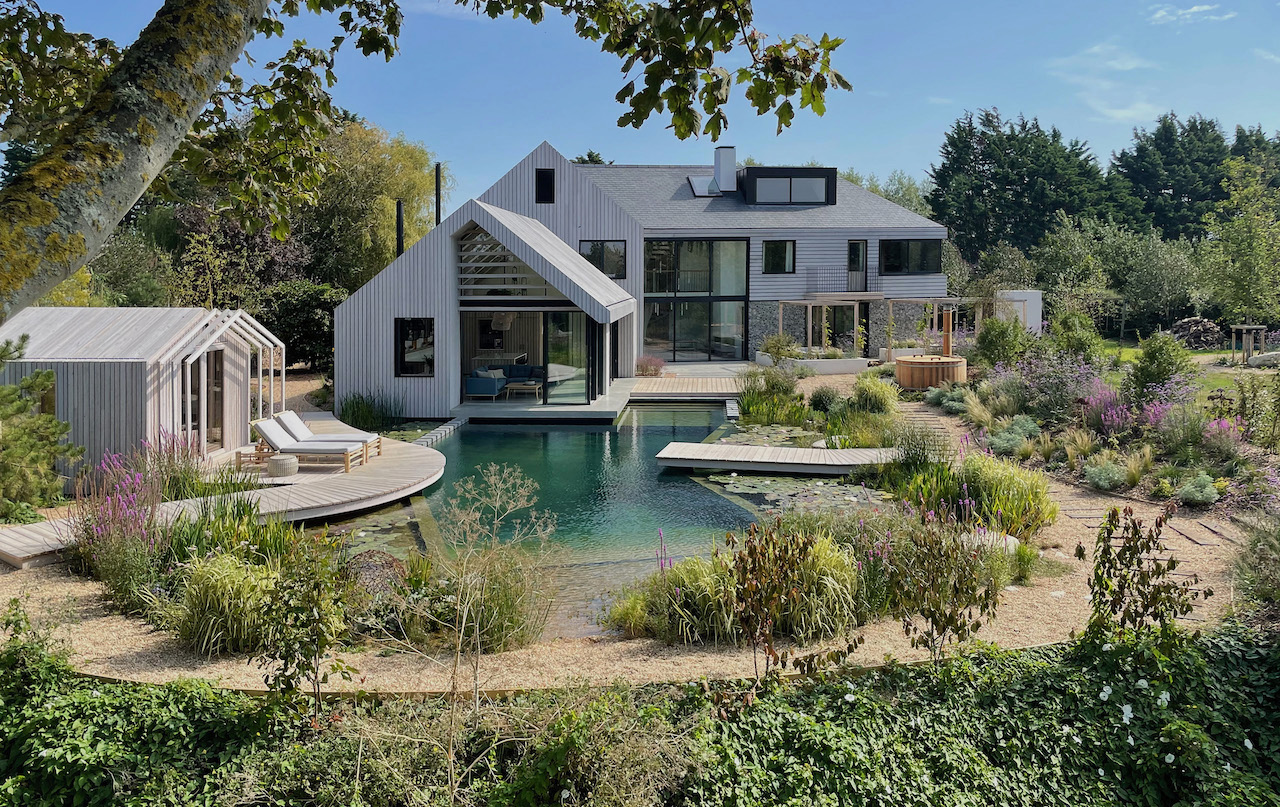 West Sussex's modern homes are renowned for their cutting-edge design and spacious interiors. These properties offer a wide range of aesthetics, from minimalist, sleek lines to more adventurous architectural forms. Such homes provide a contemporary backdrop that can add a sophisticated touch to your photoshoots.
On the other hand, the county is home to many heritage properties, from quaint thatched cottages to imposing manor houses. These historic buildings, complete with wooden beams, stone fireplaces, and leaded windows, provide a sense of nostalgia and rustic charm. These locations are perfect for those seeking an authentic period setting for their shoots.
Finally, West Sussex's unique array of conversions — from old factories to barns — offers an interesting contrast. They feature exposed brick walls, high ceilings, and expansive spaces that are perfect for editorial or fashion shoots requiring a raw, industrial aesthetic.
In addition to the architectural variety, the natural surroundings in West Sussex also provide numerous outdoor shoot locations. From the tranquil beaches to the rolling South Downs, you can capture different moods depending on the time of day and season.
---
Rooftops and Cityscapes
Immerse yourself in London's dramatic cityscape by shooting from an elevated vantage point. Rooftops offer a bird's-eye view of London's expansive urban sprawl, showcasing architectural wonders and network of residential streets. The magic truly comes alive during the golden hours of dawn and dusk, when the city's features and rooftops are bathed in warm, ethereal light.
Moving to the city's iconic landmarks, they are not just historical sites but serve as unique backdrops for captivating photoshoots. Structures like the Gherkin, Shard, Tower Bridge, Buckingham Palace, and the London Eye hold their own charm. It's all about offering a fresh perspective on these well-known sights. Capture them during early morning or late evening to avoid the crowds and to make the most of the natural lighting conditions.
Discover More Location Houses in London Today
From the city's iconic landmarks and stunning cityscapes to charming suburban houses, quaint cottages, and stately mansions, London offers diverse backdrops for photoshoots. Whether you're capturing the city's skyline at dawn or planning a shoot at a location home in one of the city's diverse neighbourhoods, London has something for every photographer.